Home
Talk

4
620pages on
this wiki


Welcome to the wiki about the Facebook and MySpace game YoVille, owned and developed by Zynga, and originally created by Big Viking Games. Check out some of the pages we have, and feel free to add to them! We may look small, but we have a lot to offer!

This Wiki currently has 620 articles, and growing!

Please make sure to visit and post on our Forums!

Need to ask a question or contact an admin? Send a message to either Jack YCO or Miss Electric Blue and we will reply as soon as we see it!


--- Mon, 20 May 2013 - 7:32pm UTC
Check out the Latest News on the Wiki!


Disclaimer: This wiki is about the Facebook/Myspace game YoVille, run by Zynga. All pictures and text mentioned on this wiki belongs to and is copyrighted to Zynga . We do not own any of the images. The YoVille Wiki is a fun, helpful fan-made wiki not associated with Zynga in any way! In addition, this wiki is not associated with any other YoVille fan sites! This wiki is optimised to work best on Google Chrome and therefore there may be some issues for other browsers such as Firefox or Internet Explorer.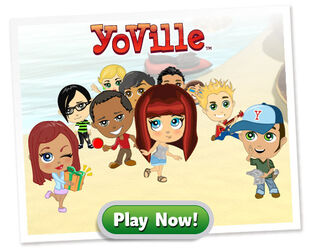 What do you think about all the recent close-out sales?
How well do you think Zynga delivered this Easter?
Which ONE of the following theme ideas would you love to see in YoVille?
Click here to see Past Polls!

When you walk over the Beach, your footsteps are recorded in the sand, and little foot marks are left where you've walked over.
VIP was considered for the game even before Zynga owned it.
In 2009 developers actually increased the difficulty of the Speedway, saying it was too easy to win.


It is very important you read these rules! If you break them we may have no choice but to ban you from certain parts of the wiki!
Treat others with courtesy and respect while on the wiki.
No vandalism. The first time you vandalize a page you will receive a warning. The second time will be a 24 hour ban and the third time your IP will be banned permanently from editing the wiki.
Chat is monitored closely. Any harassment, abuse or bad language will result in being banned from chat.
No adult material on the wiki. This includes but is not limited to adult language, sexual material, discussion of crimes and adult jokes.
No advertising on the wiki!
The YoVille wiki is an independent site to inform YoVille players. Do not post content relating to other YoVille fan sites, although they can be discussed positively in Chat/Forums.
No linking to private Facebook/Myspace accounts whether it be your's or somebody elses these rule has been applied to increase user safety. The administrators on the wiki cannot be held responsible for unauthorised access to private accounts.