Home
Talk

0
777pages on
this wiki

Welcome to the wiki about the Facebook and MySpace game YoVille, owned and developed by Zynga, and originally created by Big Viking Games. Check out some of the pages we have, and feel free to add to them! We may look small, but we have a lot to offer!

This Wiki currently has 777 articles, and growing!

Please make sure to visit and post on our Forums!

Need to ask a question or contact an admin? Send a message to either Jack YCO or Hugh G. Reaction and we will reply as soon as we see it!


--- Tue, 11 March 2014 - 5:40pm UTC
Check out the Latest News on the Wiki!


Disclaimer: This wiki is about the Facebook/Myspace game YoVille, run by Zynga. All pictures and text mentioned on this wiki belongs to and is copyrighted to Zynga . We do not own any of the images. The YoVille Wiki is a fun, helpful fan-made wiki not associated with Zynga in any way! In addition, this wiki is not associated with any other YoVille fan sites! This wiki is optimised to work best on Google Chrome and therefore there may be some issues for other browsers such as Firefox or Internet Explorer.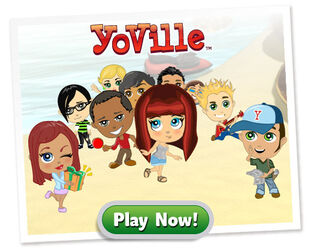 The Car Store was originally designed to be an outdoor car lot.
YoVille was created and designed by a company called Big Viking Games, not Zynga.
In 2008 and 2009, there was a fun glitch with actions that messed up your avatar, done by clicking on the "You da Bomb" action, followed by "Jumping Jacks" immediately after.
Present Wiki Staff:
Past Wiki Staff
Past Forum Staff